Feel confident and at ease in social settings — no booze required
Do the things you love without compromising your health or values
Manage stress and prioritize your well-being in a healthy way
Are you a 

gray-area 

drinker?
You aren't sure if you really have a problem. You just know your life could be better if you drank less.
You drink a couple of nights a week and on the weekend  — like pretty much everyone else. You don't like how you feel after drinking. And you definitely don't like the impact it's having on your physical and mental health. You want to drink less. (Maybe even not at all.) You're ready to create a life that prioritizes your health while still enjoying your social life.
But it's hard to stop when everyone around you drinks. What will they think if I decline? How will I socialize with co-workers or catch up with old friends? What will I do to unwind? How will I go on vacation?
But you know what?
You CAN drink less and still enjoy life. 

The truth is, most people don't care if you don't drink. Getting out of your head is the real barrier. 
You just need to find peace and harness the confidence to escape the social pressures — so you can take control of your own well-being.
Truthfully, I've been where you're standing.
I know what it's like to crave a change, to desire a healthier and happier lifestyle. That's why I'm here to support you every step of the way — because moderation (or even quitting) doesn't have to mean sacrificing your social connections or missing out on life's joys.
In fact, life gets SO much more joyful when we aren't numbing ourselves regularly. 
With our guidance and mentorship, you'll gain the tools and strategies to navigate social situations with ease, find alternative ways to unwind and relax, and embrace a life that puts your well-being first. We'll show you that there's a whole world of possibilities beyond drinking, where you can truly thrive.
Together, we'll break free from the societal norms and expectations — empowering you to make choices that align with your values and health goals. Our approach is judgment-free, supportive, and tailored to your unique journey.
So, if you're ready to transform your relationship with alcohol, discover a newfound clarity and wellness, and live a life that truly nourishes your mind, body, and spirit, then you're in the right place. 
Welcome to Soberish, where your journey to a healthier, more fulfilling life begins.
Get Started
Enjoy hangover-free weekends
Full of peace
Stay healthy and energized for much longer
Feel more connected to those around you
Achieve more because you finally believe in yourself
Feel confident socializing as yourself — without using alcohol as a crutch
Create a life that aligns with your goals and values
Tired of going through the same cycles?
Let's help you find peace.
Step 1: Listen to yourself
It all starts with listening to your body and understanding what you truly need. Whether you want to drink less or completely quit drinking — it's important to have a plan. Let's find the perfect one for you.
Step 2: Get tools and support for growth
Our Free private and uplifting community is here to support you.
The Drink Less Live More challenge is ready to hold you accountable. 
It's time to take control, put your needs first, and live with intention.
Step 3: Enjoy a Soberish you
You're taking charge of your health, feeling confident, and finding balance. 
You're creating a FULL life aligned with your desires… better health, consistent energy, and putting you first.
Quitting?
More like focusing on what matters.
Ways to explore living alcohol-free
Try our 14-Day Break from Booze guide to see what your life would feel like without alcohol for two weeks.
Join Now for Only $37
Drink Less Live More Community
Join the Drink Less Live More Community for Exclusive Resources, Monthly Masterclasses & Coaching, Ongoing Encouragement, and Sustainable Transformation.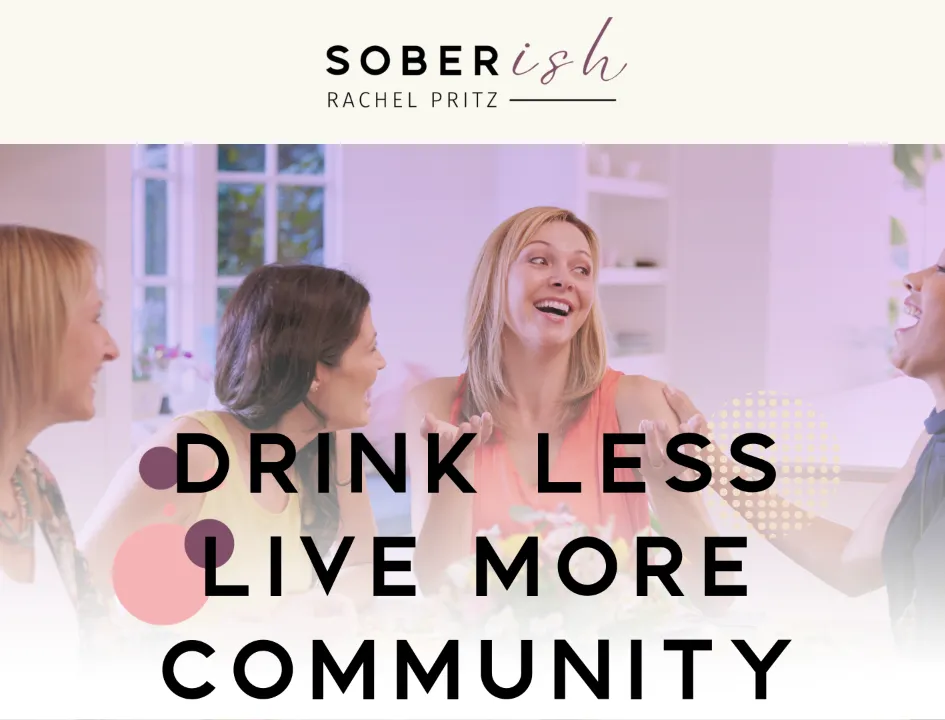 ✓ Monthly 30-minute Masterclass, hosted by Rachel, on topics including Resilience, Guilt Cleanse, Enneagram, and so much more!
✓ 1 hour of LIVE Group Coaching each month
✓ Exclusive Content & Resources to help you extend your Soberish journey
✓ Weekly Accountability with text message check-ins from Rachel
✓ Community Support with tons of other women on a similar journey
PLUS — You'll access the entire Drink Less Live More Challenge content over 3 months!
Join Now for Only $97/month
Check out what people just like you have achieved through Soberish
Overall, I'm learning through your "drink less live more" program that I no longer want to drink so much that I get to the "tuning out" phase and I'm numb to my feelings. I want to be present, and if I do decide to have a drink, it will be more "sipping" a drink and not mindlessly drinking and wonder how in the world I just had 3-4 glasses so quickly. 
- Renay R.
I have been listening to your podcast for a while now. It's been really great to hear your story and get your advice to help with my own AF journey. I just finished your 14 day break from Booze program which was super helpful. Admittedly I was already a month or so in when I started it and took longer than 14 days to complete due to work travel and life but it was so so great and gave me even more motivation. Thank you! 
- Melissa T.
I work with women who have experienced trauma and often run drinking to deal with it. While I'm in more of a gray area of drinking, I've noticed my own healthy behavior with wine. Working with Rachel has helped me with understanding the "why" through the Enneagram and it's helped me help my clients!
- Meredith G.
Hey,
I'm Rachel Pritz!
Life Coach, RN, MSN, and Founder of Soberish
Truthfully, I thought of myself as a "normal" drinker… until November 2020. 
Long story short, I had some lab work come back that was abnormal. I felt awful. I knew 6 months of daily drinking was the culprit. This was serious.
I dug in deep and finally did the hard work. It wasn't easy and it wasn't always fun. Through my journey, I identified 4 Pillars of Success with cutting back or quitting drinking altogether.  Emotional Intelligence, Self-Love & Compassion, Soul-Care, and Self-Awareness. (I'll teach you all about these.)

The thing is, the fear of totally quitting forever is paralyzing  — so many people don't seek support. Especially, if you're not an alcoholic… but you do think drinking is problematic for you. It's a tough spot to be in. And a spot many of us are in. 
That's why I created Soberish. To give you the tools and clarity to choose what's right for you. We'll dissolve the desire to drink instead of focusing on willpower. No judgments. No hard and fast rules. Absolutely NO shaming. 
You're not powerless over alcohol. We just need to take your power back.
If you're sick and tired of being sick and tired, join me. If I can break up with Chardonnay, anyone can.
Join the Soberish Community 
Subscribe to our newsletter for weekly confidence & lifestyle tips, mocktail recipes, and motivation.